The purpose of the North Dade Area convention of NA is to bring our membership together in the Celebration of Recovery. Meetings, workshops, and other
activities are scheduled to encourage unity and fellowship among our members and will reflect the primary purpose of Narcotics Anonymous.
Why Register early ? The money collected from registration is used to pay for the hotel and convention facilities, associated services, for equipment, maintenance,
printing of pre-registration packets and other related expenses. Administrative expenses include rent for committee meetings, telephone charges, and general
expenses prior to the convention. We believe that once participants understand that it is the fees from registration that make this event possible, and that the
registration funds collected are used for the planning and implementation of present and future conventions, the reasons for registering become clear.
It is the support of each member's registration ad/or donation that makes this convention a success.
NDACNA Convention Committee currently meets 2nd Saturday of the month at 2:00 pm.

Armani Studio 5601 nw 7th ave, Miami. Contact Convention Chair Phyllis J. @ 305-345-4008
NDACNA 2020 ADDRESSING RECOVERY V "FROM DESPERATION TO RESTORATION"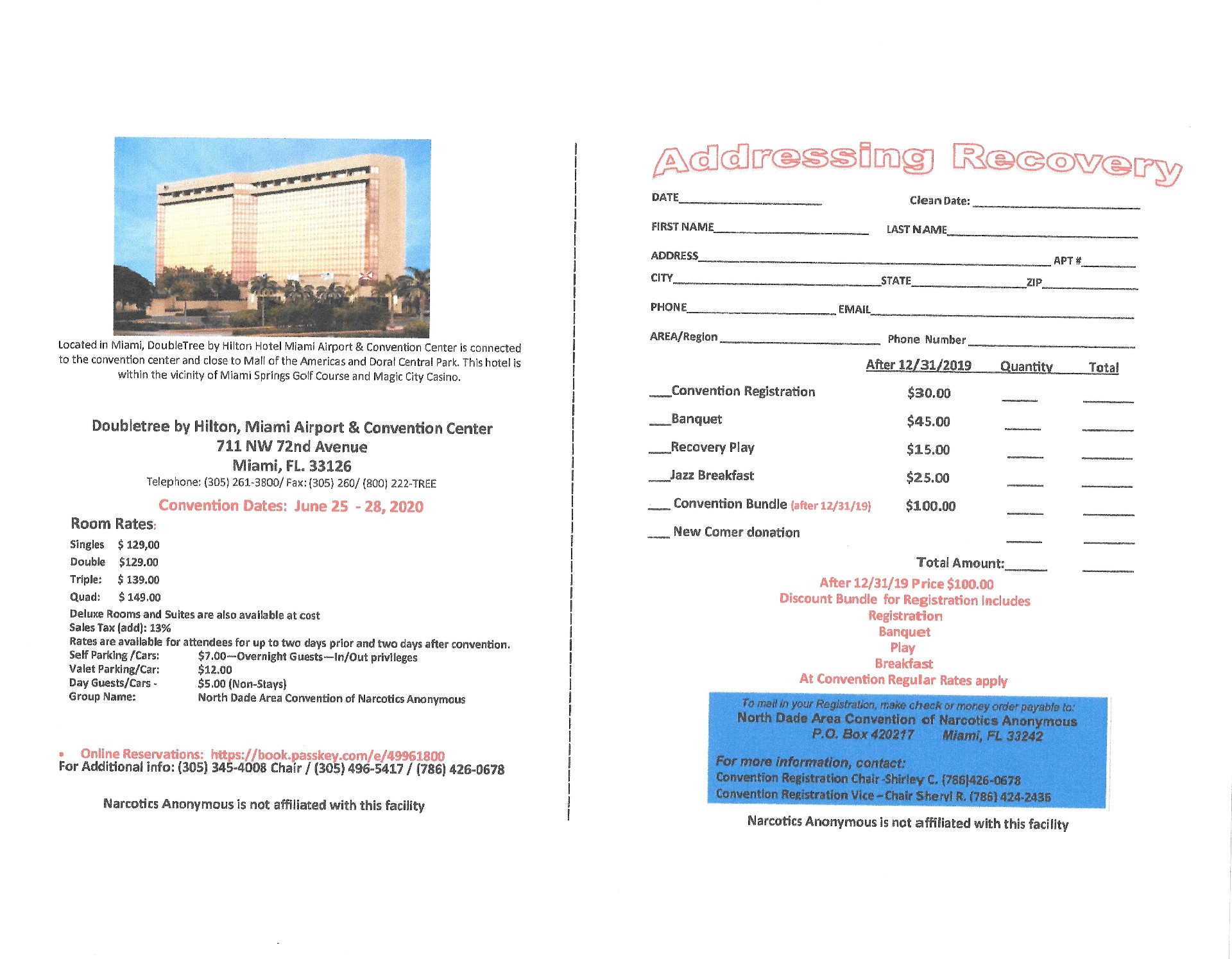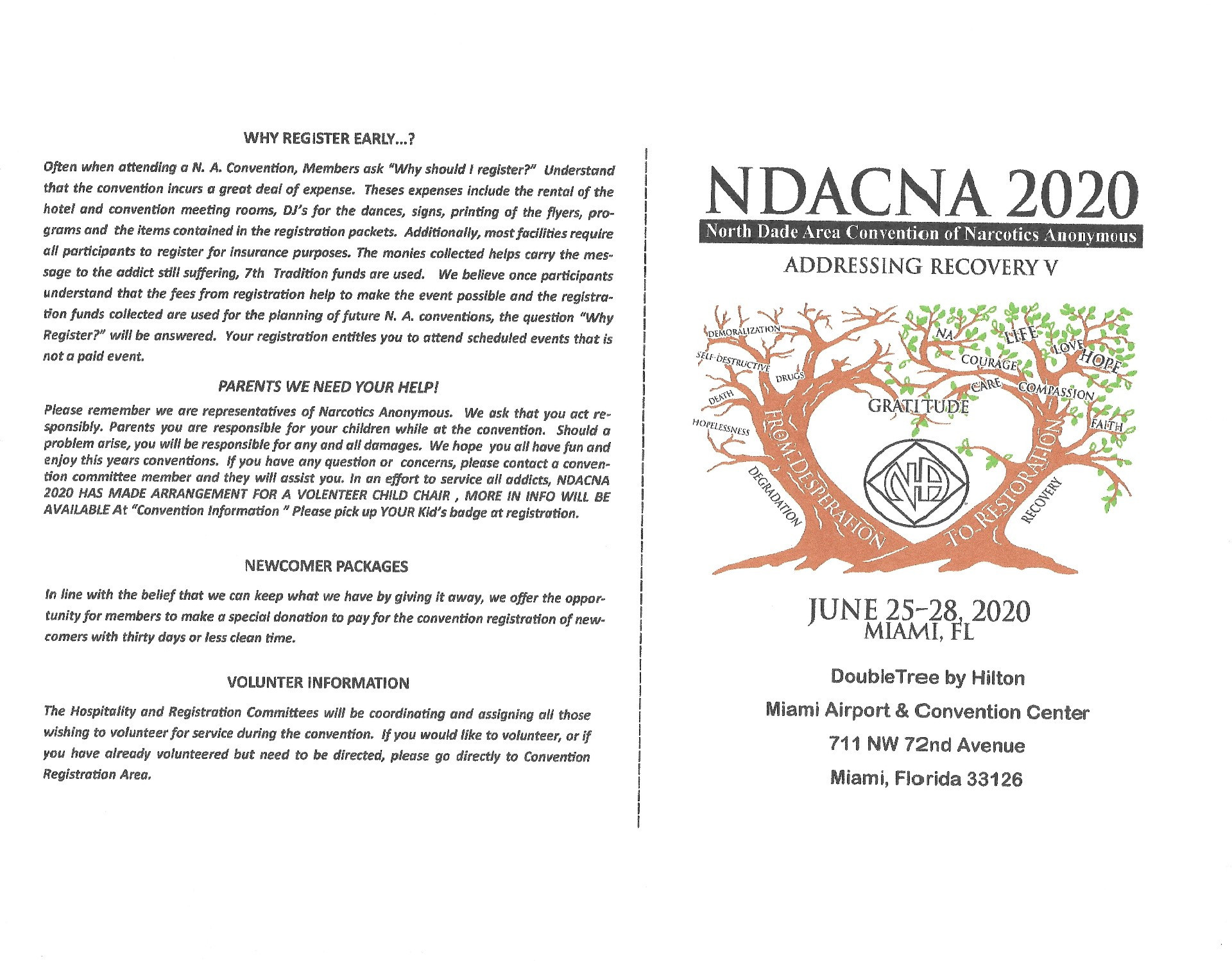 NDACNA Convention
June 25-28, 2020
Doubletree by Hilton
Miami Airport & Convention
711 Northwest 72nd Avenue,
Miami, Florida, 33126
Telephone 305-261-3800
Book your room (s) early !
Online Reservation
https://book.passkey.com/e/49961800
For additional information
305-345-4008 Phyllis J. Chair
305-496-5417 / 786-426-0678
Doubletree Host hotel Room rates
Singles $129.00
Double $129.00
Triple $139.00
Quad $149.00
Deluxe rooms and suites available at cost
sales tax $13.%
Self parking $7.00
Valet parking $12.00
Day Guests $5.00 (non-stays)
Group Name:
North Dade Area Convention of Narcotics Anonymous
Located in Miami, The Doubletree Hilton hotel Miami Airport and Convention Center is connected to the convention center and to the Mall of Americas, and Doral central Park. This hotel is within the vicinity of Miami Springs Golf Course and the Majic City Casino
Convention Registration $30.00
Banquet $45.00
Recovery Play $15.00
Jazz Breakfast $25.00
* Convention Bundle $100.00
Merchandise including Caps, T-shirts , and
Mugs can also be purchased online and at
the event .
NDACNA 2020 is looking for Speakers for our North Dade Area Convention.
Three (3) Years clean for Workshop Speakers FLYER
Five (5) years clean for Main Meeting Speakers
Must have a clear message of Recovery.
Please submit all CD or Mp3 or name submissions to:
North Dade Area Convention of NA
P.O. Box 420217, Miami, Fla., 33242 or for electronic submissions
Please email NDACNA01@gmail.com.
Please include, name, contact info and clean date.
For more info contact Program Chair Yvette W. @ 786-266-6487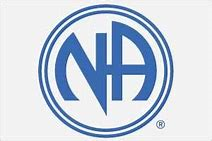 The Hospitality and Registration committee will be coordinating and assigning all those wishing to volunteer for service during the convention. If you would like to volunteer or if you have already volunteered please go directly to convention registration area
To move with the belief that we can keep what we have by giving it away, we offer the opportunity for members to make a special donation to pay for the convention registration of newcomers with thirty days or less clean time.
To mail your registration make check or money order payable to:
North Dade Area Convention of Narcotics Anonymous
P.O. Box 420217 , Miami Fla. 33142
For more info contact. Registration Chair Shirley C, 786-426-0678
Vice Chair Registration Sheryl R. 786-424-2436
The NDACNA Green Carpet Event
has been postponed and will be
rescheduled. More will be
revealed.